Edit: The add-on has now been released, so check out the announcement post: Towards Browse-Based Browsing with Home Dash. Thanks for the feedback!
I started hacking on an idea last week in the context of the Prospector experiments [mozillalabs.com]. I'm looking for a small set of people to try it out and give some initial technical feedback. For example, I know I've hard-coded some sizes/images that happen to fit my 1280×800 screen on my Mac, but I am curious how it works or doesn't work on other platforms, window sizes, etc.
You can install the restartless add-on [edit: addons.mozilla.org] if you're already running Firefox 4 Beta 10 [firefox.com] or later. I'm not really describing it on purpose. 😉 But not to be too confused, below is a sketch from when I started hacking on it. And as usual, you can check out the source first from GitHub [github.com] or directly from the .xpi.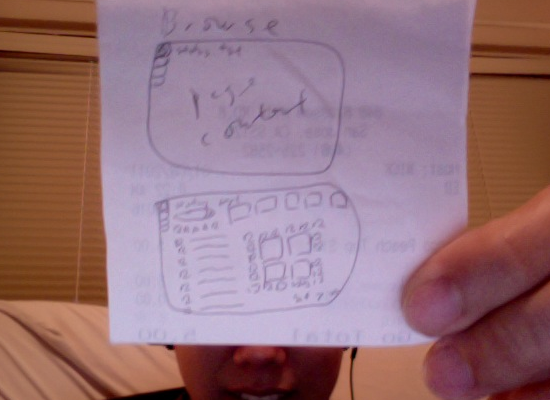 You can email me the feedback at edilee@gmail.com or just reply with a comment!
23 Comments | Tags: Development, Mozilla, Search