How are people using the AwesomeBar in Firefox 3 Beta 4 [mozilla.com]? (Please comment. [ed.agadak.net])
There have been a lot of positive comments already: searching for multiple words like the domain plus title, adaptive learning that immediately brings previously selected results to the top.
But there are a few that say the desired results aren't showing up. I'm not sure if they haven't tried Beta 4, or if they're just commenting based on previous versions. Or maybe they've installed extensions that revert the look of the location bar and haven't really tried the new features.
Common complaints include typing "news" and getting results that match in the title instead of the url. However, that should be instantly fixed when the user selects the desired result from the list after typing out more of the url. Next time typing "n" will have the previously-selected page at the very top.
Below is a sample thought process that could only be possible with the AwesomeBar*.
I'm trying to find a news article I read yesterday..
Oh, it's matching a lot of pages that I've tagged. I know it's something in my history that I haven't bookmarked.
Much better. I actually see some Firefox results that I was looking for to begin with. Let's filter out the pages I don't want.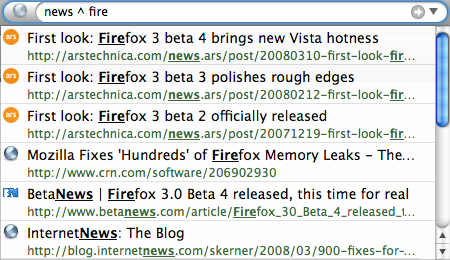 Beta 2? Beta 3? I just want beta 4 news articles!
Perfect! I love the awesomebar! Hehe, thanks shaver. 😉
* The screenshots were taken with a trunk build (win32, os x, linux [build.mozilla.org]) that contain some patches: 393678, 419656, 417441, 415397, 421315, 407946, 415403, 418257, 392143, 249468, 395161, 407204, 406257, 420437, 414326 [bugzilla.mozilla.org]. Feel free to try it out and see if it finds results better or just looks better (6 rows and smaller font size).
* edited downloads to include word boundary matching
36 Comments | Tags: AwesomeBar, Mozilla